Posted by Sean Blanda on Nov 1, 2008 in
Commentary
|
Like many events in my life, I had pictured it much differently. I thought I'd see the Phillies win it all somewhere in Philadelphia surrounded by red and white-clad die hards. Instead it was Chris, a Canadian, and I in an empty bar in Germany.
But, hey, I'll take it.
Sometimes when you travel, you just get lucky. There's little luck like catching your train on time or finding that elusive tourist spot. And there's big luck, like, I don't know, the city you have cheered on for 22 years of existence finally gets over the existential hump by being the best in the world at something – anything.
When Chris and I arrived in Berlin the Phillies were up 3-1 and we were desperate to watch Game 5 live. Until this point I purposefully avoided watching the games, and only checked the headlines the next day. However with the Phillies ahead 3-1 in Philadelphia, there was no way I was going to be informed of a championship via an Internet headline.
Sadly, the day we arrived in Berlin the first item on the agenda was to find out where we could watch American Baseball at 2:30 a.m. When we arrived in the hostel we booked we were met with confusion. We had the right address, but the name of the hostel was different. After asking the staff, it turned out that the hostel we had originally booked had moved and this was an entirely new outfit. As Chris and I sat and wondered what to do, we noticed a chalkboard that read:" Watch sports here! NBA, Football, NFL, and MLB". Could it be that by a mixup in directions we happened to stumble upon a sports bar that would play the World Series? I timidly asked the bartender, and he confirmed that the World Series will be on and that there is, in fact, a God.
Needless to say, we changed plans and booked the hostel and stayed up until 2 a.m., excited to watch Game 5. One rain delay later, and this is what happened: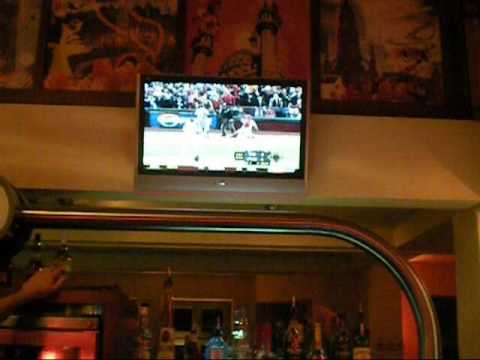 No exuberant celebrations, no riots, not much screaming. Just peace and a quiet acceptance that dreams are possible and Philadelphia is not eternally doomed.
---
We didn't catch it on video, but as the end of the game grew closer the Canadian did everything he could to jinx it.
"You know when I was little I had a Joe Carter poster given to me"
"You guys are 6 outs away, you'll win"
"Doesn't he look like Mitch Williams?"
It looks like not even a Canadian jinx could ruin this one.
Congrats to the Phillies!