Posted by Christopher Wink on Nov 6, 2008 in
Experiences
|
Sometimes, when you use Couchsurfing, you really connect with your host. In time, conversation and interests. Such is how things went for me and my host Bálint in Budapest, Hungary.
I stayed with him two nights. From our first conversation - over a garlic and eggplant dip of his mother's creation and some Hungarian beers of my purchase - I knew he was a good, fun guy, interested in the world and excited to try out his English - the jokes came faster the better we got to know each other.
So, I was excited to hear his offer to cook a traditional Hungarian stew if we bought the ingredients.
Sean and I dashed off to Budapest's beautiful Central Market - or Központi Vásárcsarnok if you're feeling lucky - to buy tomatoes, six chicken breasts and six chicken thighs to supplement Bálint's heavy store of paprika, onion, hot peppers, more paprika, grease, oil and flour, other materials for homemade noodles, more paprika and more grease.
The result was delightful, as was the company, as Bálint was accompanied by his charming brother and best friend Edgar.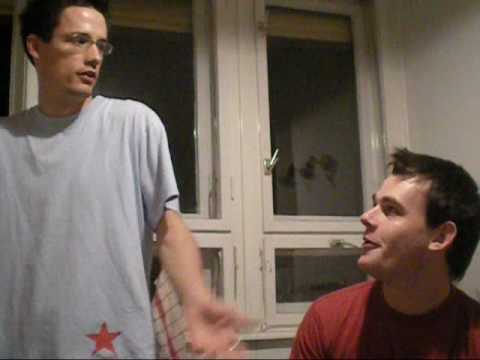 To review, the first two rules of Hungarian cooking:
More onion
More paprika
Where gulash is their most noted meal - a general paprika and meat-based stew - this was called just that, a stew. The ingredients and process was simple enough to make it about as specific as 'sandwich.'
Regardless, homemade noodles, stew and hearty bread - not to mention the fresh milk that I was drinking - was a welcome relief from weary traveling.
Thanks Bálint !