Posted by Christopher Wink on Oct 8, 2008 in
Experiences
|
Sean likes to say that my only means of social interaction come through athletic competition.
So, when walking back to our hostel, without a real plan what to do, coming upon Vincent (left, with ball) and Justin playing basketball was a blessing. We beat them 11-3, shook hands and then asked their advice about what was really worth seeing and doing in Amsterdam.
Check the video highlights below.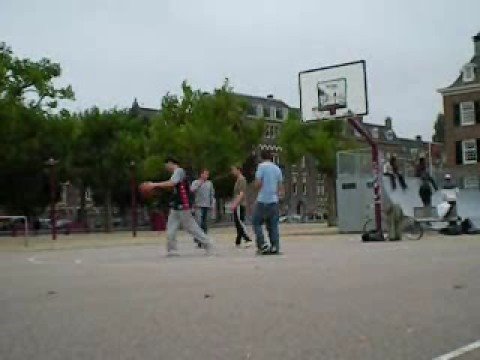 Beating up on two Dutch guys - OK, to be fair, they fared better in the second game, rocked some sweet American apparel and Vincent made a few dizzying shots - wasn't my first such experience.
If there is a better, more efficient, healthier way to develop a bond with a local and get his honest opinion about something, I don't know it. I got pushed around the courts in Accra, Ghana as a teenager - but they showed me my favorite places to eat - and had three-point competitions with a technical college team in Tokyo - who took me out drinking in true Japanese style.
Sweating, pushing and rivaling brings up a connection faster than any cold conversation can. You play hard, you play fair and then you win - because that's what Americans do - and you might actually get an honest answer - if not a whole lot more.
Seany and I will keep warm for further battles - making the United States and the courts of Philadelphia proud one more way.