Posted by Christopher Wink on Oct 14, 2008 in
Travel Tips
|
Packing is preparation.
Everything else can go to Hell and will.
There is that travel saying that we have all heard, but I have to credit with last reading on a blog by a friend who is doing a world tour right now.
Take all the things and money you need. Double the money and halve the possessions. You'll be ready.
Before we left, I went through what I packed - some items I have learned to bring, but surely others were overlooked - so we can both learn together. See the video below.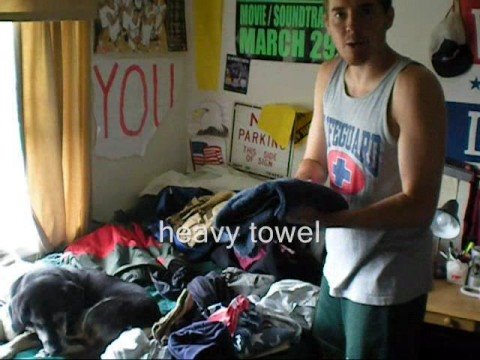 A week in, there are some other items I'd like to add to my own necessities for a lengthy, backpacking tour, no matter where it is.
Other items:
padlock - in hostels and train stations, you might find yourself free lockers - rented locks at a price. save yourself a dime, unload your bags and walk freely. If you have the space, perhaps bring a bicycle lock or chain, too, so you can lock bags together if you can't find a locker.
Phrase book - if you don't have language background enough to use a dictionary or are traveling through several countries, get yourself a phrase book - at the least you can point to these important phrases. Sean has a great one for European countries.
Digital camera and extra memory card - of course don't forget your camera. but a nice thought is bringing an additional memory card or three. many people upload photos as they go during extended stays, and Sean brought his beast of an external hard drive, but if you aren't operating a blog and traveling lighter than we are, just bring a couple other memory cards in case you can't get to a computer.
MP3 player - if you are into tunes, one of these are great for train rides - and falling asleep in a hostel with a snoring neighbor. No more valuable than a passport, so just guard it as carefully.
ear plugs - I have seen these sold in many hostels for the above mentioned reason for light sleepers.
compass - no, you won't be wandering through the forest - necessarily - but once you climb out of a train station a bit disorientated, it might be your best shot of navigated to your hostel, hotel or friend's house.
wrist watch - anywhere your cell phone might die, but internationally it's useless. catching trains and waking up early - an alarm is a sweet help, if you can't wake up on your own reliably.
disposable razor - yeah, you might want to shave, but what's more interesting might be that, in a pinch, I've used one to cut torn jean pant legs. They're also allowed on planes.
some emergency toilet paper - sticky situations. replenish in public bathrooms.
nail clippers - you may not be able to shower or wear clean clothes, but some hygiene you can control
water bottle - hang it from your bag, fill it up in public bathrooms or whenever you can. It'll save you plenty of bank, and while traveling, you should be focusing on drinking water - not sodas and certainly not energy drinks. In my defense, this is always on my list to bring, but I couldn't find my favorite before I left.
paper and pen - write down directions, phone numbers, your favorite beer. be ready.
My inventory:
one week's worth of clothing
more than one week's of underwear and socks - fresh undergarments make you feel cleaner than you are
long underwear - whatever season, whatever the location, a night outside a train station without proper shelter can get chillier than you might realize
hat and gloves
cigarette lighter and book of matches - both are legal on planes now, light and fire can prove handy in situations you might not think of. Oh, and buy yourself a Cuban if you go somewhere you can.
rain jacket - rain will rain on your parade.
heavy hooded sweatshirt
heavy towel - if you get a shower, great, but it can also serve as a blanket, a pillow or a sleeping pad.
disposable fork - a spork if possible. either way, you might get food thrown your way, and cold spaghetti tastes a little worse when you're shoveling it into your mouth with a shaking left hand. Uh huh.
toothbrush, travel toothpastes and floss - I do not mess around when it comes to dental hygiene. Ask a dentist, this stuff is serious for your long term health. Plus, backpacking, train traveling and station sleeping can do some wicked things to your breath.
a credit card, ATM card and rolled up ball of U.S. cash - warn your banks, so they don't think your cards have been stolen, but for a relatively reasonable charge (check before you leave) you can get bailed out. similarly, it's amazing how the U.S. dollar speaks, even in these precarious financial times.
a chest belt - a thin belt that can be strapped around your body with only the most important things you want keep, passport, backup cash, cards, license. Give them your wallet, your bag, don't mention what's under your shirt.
a smaller travel bag - good for day trips and also a great way to keep your most important valuables together.
Image courtesy of Borev.net.
Any other suggestions?